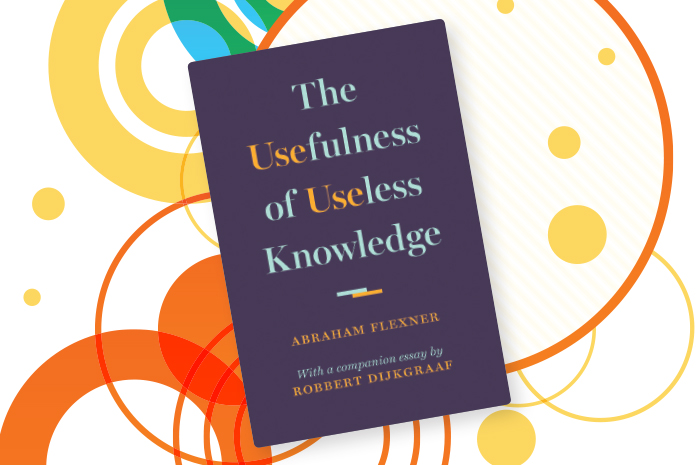 Big Bang Theory
A pair of essays on the value of 'impractical' inquiry offer a timely—and timeless—defense of basic research and the stunning breakthroughs
it can inspire.
The Usefulness of Useless Knowledge
By Abraham Flexner, with a companion essay by Robbert Dijkgraaf.
Princeton University Press 2017. 104 pages.
One of the more telling anecdotes in Abraham Flexner's 1939 essay concerns Paul Ehrlich, renowned for his work on staining methods that first helped distinguish red and white blood cells. As a first-year medical student, Ehrlich was observed by a professor bent over his microscope, sketching an array of colored dots all over his desk. When asked about his activity, the young man responded, "Ich probiere"—"I'm trying" or "just fooling." The fact that this 17-year-old was not pressured to abandon his seemingly useless activity and was instead encouraged to keep "fooling" around made all the difference, to his—and to others'—subsequent contributions to the emerging fields of hematology, immunology, and chemotherapy, writes Flexner, founding director of Princeton University's Institute for Advanced Study (IAS) and a staunch advocate of unobstructed intellectual exploration. "Most of the really great discoveries which had ultimately been proved to be beneficial to mankind," he underscores, "had been made by men and women who were driven not by the desire to be useful but merely the desire to satisfy their curiosity."
His essay, originally published in Harper's magazine as World War II erupted, offers an opportunity to reflect upon the importance of "the unobstructed pursuit of useless knowledge" and to consider, as the institute's current director notes in a 2017 companion essay, why we should guard against research becoming "dangerously skewed toward conservative short-term goals."
Flexner built his reputation as an education reformer whose studies strongly influenced the upgrading of American medical schools. Yet when tapped to establish a new medical school, he persuaded his benefactors to instead support a center for unimpeded, fully funded research. Concerned with the deteriorating situation in Europe, Flexner assisted Jewish scientists and others driven from the continent by the rise of the Nazis, declaring that "the center of gravity in scholarship" was shifting across the Atlantic to the United States. He was not entirely wrong: In addition to Albert Einstein, early IAS luminaries included, among others, mathematicians Kurt Gödel and Hermann Weyl, art historian Erwin Panofsky, and Nobel physicist Wolfgang Pauli.
Flexner offers his defense of basic research with examples of big thinking and relentless experimentation that led, often indirectly, to significant advances. When we consider the genius of radio transmission, he argues, we should look not just to the Italian inventor Guglielmo Marconi but to James Clerk Maxwell and Heinrich Hertz for their work with electromagnetic waves, or to Michael Faraday, for even earlier experimentation. Though not criticizing applied research or engineering schools where "the usefulness motive necessarily predominates," Flexner's interest lies with inquiry that opens new vistas, "useless at the moment, but pregnant with future achievements, practical and theoretical." Ultimately, he writes, he is "pleading for the abolition of the word 'use,' and for the freeing of the human spirit."
The current IAS director, string theorist Robbert Dijkgraaf, enriches this publication with an updated perspective on Flexner and his contemporaries, highlighting their contributions in areas that range from nuclear energy to digital technology, quantum mechanics, and superconductivity. Without Einstein's theory of relativity, he points out, our GPS tracking devices would be off by about seven miles. Dijkgraaf also delivers an urgent call for both basic and applied research, saying it should be "a social imperative" to maintain a balanced portfolio of research investments. Yet today, U.S. federal, industry, and academic support for theoretical study increasingly is being bypassed in favor of more predictable, goal-directed research. Dijkgraaf urges greater outreach, not only to advocate for support and funding but also to engage the public on science literacy and responsible choices. "Society fundamentally benefits from embracing the scientific culture of accuracy, truth seeking, critical questions, healthy skepticism, respect for facts and uncertainties, and wonder at the richness of nature," he writes. In Flexner's time, European scientists found their intellectual activity strictly regulated, with universities becoming "tools of those who believe in a special political, economic, or racial creed." Today, writes Dijkgraaf, "the progress of our modern age" needs technical expertise but also "unobstructed curiosity and the benefits—and pleasures—of traveling far upstream, against the current of practical considerations."
[Editor's note: Donald E. Stokes's 1997 Pasteur's Quadrant: Basic Science and Technological Innovation (Brookings Institution Press) makes the case for "use-inspired research," the pursuit of both understanding and potential use. A Prism review can be found at http://www.prism-magazine.org/december/html/booknotes.htm]
Review by Robin Tatu
Robin Tatu is Prism's senior editorial consultant.
Image Courtesy of Amazon/Thinkstock