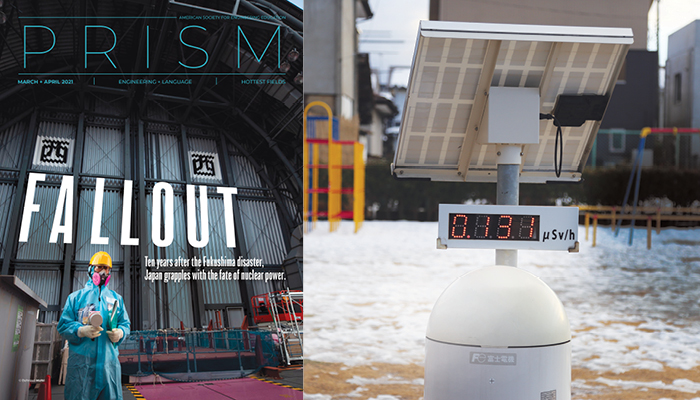 Engineering a Recovery
A decade after the Fukushima nuclear plant disaster, Japan continues the cleanup and considers its energy future.
By David McNeill
NAMIE, JAPAN—Nestled between the sea and the lush fields and forests of Fukushima Prefecture, Namie was undone by its proximity to the Daiichi Nuclear Power Plant. After a 15-meter tsunami overwhelmed the facility in March 2011, disabling its cooling system and causing three of the plant's six reactor cores to melt down, most of the town's 21,000 residents fled. The Japanese government lifted its evacuation order in March 2017 following costly decontamination, but 80 percent of Namie—about 10 kilometers from the plant—is still off limits due to lingering radiation. Just over 1,200 residents have returned, mostly older adults.
The Fukushima crisis crippled Japan's nuclear industry—and wrecked public confidence in atomic power. After the disaster, the country's 54 reactors shut down amid safety concerns, with government and industry enacting tougher regulations and, in some cases, local citizens' groups and antinuclear activists taking legal action. Nearly 50 gigawatts of generating capacity winked out. In 2021, all but five reactors are still offline. Thirty-three reactors remain available for commercial use, but—aging and bogged down in legal and political tussles—many will never restart. The government has scaled down plans to generate half of Japan's electricity from nuclear to about 20 percent. That's widely viewed as rosy: Opinion polls put public support for continuing nuclear power in Japan near single digits.
Prime Minister Yoshihide Suga caught many by surprise in October 2020, therefore, when he said Japan would cut carbon emissions to zero by 2050. Despite its shrinking population, Japan will need all the help it can get to meet that ambitious goal. An army of engineers and engineering educators has been enlisted to develop both green energy innovations and technologies to make reactors safer. Those efforts could contribute to a nuclear renaissance—but some remain skeptical. (See Q+A with former prime minister Naoto Kan below.)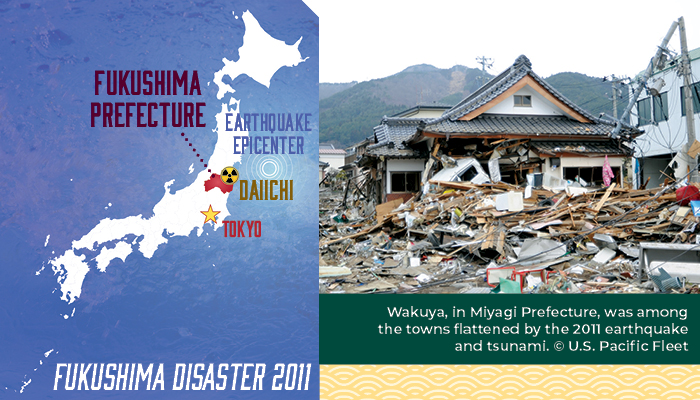 Two Steps Forward
Around the Daiichi plant's hulking corpse are the green shoots of a new technological future. Naraha, the first town inside the no-go zone to completely lift its evacuation order in 2015, hosts a factory where engineers design and test robots for use in decommissioning the plant (see sidebar).
In 2020, a private-public consortium opened a hydrogen production plant in Namie. Billed as the world's largest facility for green hydrogen production, the plant uses solar power to run a 10-megawatt electrolyzer that will generate about 200 tons of hydrogen a year to run cars and busses.
Another consortium, working with the public-sector New Energy and Industrial Technology Development Organization (NEDO), is developing floating turbines driven by cold water drawn from the Kuroshio current, which runs along the Pacific coast of Japan. The effort is still small-scale, but by 2030 heavy machinery maker IHI aims to set up an underwater current farm with enough capacity to power 3,000 households.
Japan's struggle to wean itself off nuclear power, despite its huge energy diet, offers compelling lessons in policy. In 2012, the government set one of the world's highest tariffs to incentivize renewables, which triggered more than 1.2 million applications—mostly for solar-power installations. Solar farms now dot Fukushima Prefecture. Japan's current solar generation capacity, at 62 gigawatts, is 10 times higher than its pre-Fukushima capacity, according to the International Energy Agency (IEA).
Including hydroelectric, renewable energy briefly topped 23 percent of Japan's total energy mix in the first half of 2020 (close to a government target of a quarter of total electricity by 2030), amid a declining population and a fall in overall energy consumption due to the COVID-19 pandemic.
One Step Back
Solar power, wind farms, hydrogen plants, and experimental ocean turbines alone will not keep the world's third-largest economy running, however. The shift to renewables has been slow. Japan's grid still requires upgrades to accept all of the solar energy produced. Wind power is costly—in December, the government announced it would dismantle two giant wind turbines offshore of Fukushima, costing 60 billion yen (about $560 million), because they were unprofitable. Locals criticized the government for wasting taxpayers' money and urged a study of the project's failure.
The state has bet big on hydrogen, heavily subsidizing the world's largest network of hydrogen filling stations—135 in all—though the country's small fleet of roughly 4,000 hydrogen-powered cars are mostly owned by the government or the wealthy.
In the meantime, Japan is back to being heavily dependent on reliable old fossil fuels—mostly from abroad—including coal (about 25 percent) and liquefied natural gas (24 percent). Utilities and the Ministry of Economy, Trade, and Industry have enacted plans to build 22 new coal-fired power plants. Japan asserts that its coal plants are among the world's cleanest. But they would emit almost as much CO₂ annually as all of the passenger cars sold each year in the United States, according to one study (30,000 deaths a year are attributable to coal pollution in Japan). The government's 2018 basic energy policy still leaves fossil fuels contributing 56 percent of Japan's total power by 2030.
The country's dilemma is how to minimize disruption while making the transition to renewable energies and phasing out old reactors—all in a country with 20 percent of the world's big earthquakes. As if to emphasize the difficulties, a powerful 7.1-magnitude quake in February 2021 (an aftershock of the March 2011 event) knocked out power plants across the northeast, yanking 3.6 gigawatts of power offline as plants shut down automatically or utilities shuttered gas, liquified natural gas, and coal plants for post-earthquake inspections.
The bottom line, says Naoto Kasahara, head of the University of Tokyo's Department of Nuclear Engineering and Management, is that Japan cannot do without nuclear power, re-engineered to meet post-Fukushima safety demands. "It will return," he predicts. Frank Ling, chief scientist at the Anthropocene Institute, which is dedicated to engineering solutions to climate change, agrees. "We need nuclear in the mix if you're going to solve climate change," he says. "But we also need a diversity of resources. Diversity is the key to resilience."
The Return to Nuclear
A decade after Fukushima, neither the government nor Tokyo Electric Power Co. (TEPCO), the utility that operates the Daiichi plant, has abandoned plans to build new reactors. TEPCO has suspended construction of three plants, including the Higashidori facility in Aomori Prefecture (the last to get a license before March 2011), but the utility says it is incorporating post-Fukushima know-how into its blueprints, "including earthquake and tsunami countermeasures." TEPCO says it has poured more than $2 billion into new safety features at the seven-reactor Kashiwazaki-Kariwa, the world's largest commercial nuclear plant, including a 15-meter seawall, floor barriers, and venting systems for the plant's boiling water reactors.
The determination to save nuclear helps explain why the government has dismissed all talk of allowing the area around the plant to return to nature. Instead, it was divided into three zones with awkward euphemisms to suggest just the opposite: communities with radiation of less than 20 millisieverts (mSv), the typical worldwide limit for workers in nuclear plants, are "being prepared for lifting of the evacuation order"; 20–50 mSv are "no-residence zones"; the most heavily contaminated (>50mSv) are "difficult-to-return."
A vast public-works project began in 2012 to decontaminate an area roughly half the size of Rhode Island, at an estimated cost of $50 billion. Compensation by TEPCO to 160,000 nuclear refugees was explicitly linked to the possibility that many would return, and any hint otherwise is controversial. When new trade and industry minister Yoshio Hachiro called the abandoned communities "towns of death" in September 2011, he was forced to quit a week later. Nobody wants Fukushima mentioned in the same breath as Chernobyl. Almost three decades after that nuclear accident, the world's worst, life there is still frozen in time, a snapshot of the mid-1980s Soviet Union complete with posters of Vladimir Lenin on school walls.
Lasting Effects
The University of Tokyo, which churns out the bulk of Japan's top nuclear engineers, says it has also absorbed the lessons of Fukushima. Veterans of the Daiichi cleanup teach new students, adding lessons on severe accidents and "resilience engineering." A one-year intensive course, Fukushima Studies, includes primers on the background to the 2011 accident, its causes, the ongoing task of removing fuel, and public risk communication.
These educational changes are the product of much "reflection" about responsibility for the world's worst nuclear accident since Chernobyl, says Akira Yamaguchi, a professor in the university's Nuclear Professional School. "There has been a major shift from hardware (the technology) to software (humans)" in the industry, he notes.
Recruitment of master's and doctoral students in nuclear engineering courses, which dipped dramatically after 2011, has partly bounced back. "Some students aspire to work with nuclear power regardless of the times," says Kasahara, suggesting that while young people may have gone cold on nuclear power after Fukushima, worries about energy and climate change have brought them back.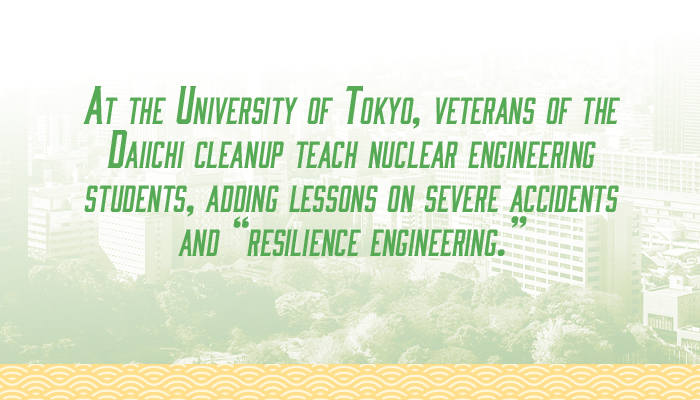 Reflection from the accident has rippled far beyond Japan. Nuclear regulators across the world demanded safety upgrades. Fourteen member states of the European Union requested safety reviews at all commercial nuclear power plants to determine whether they could withstand "extreme unexpected events." The U.S. Nuclear Regulatory Commission (NRC) required modifications at commercial nuclear plants across the country, including flood protection, watertight doors to protect diesel generators (since the 2011 tsunami flooded the Fukushima plant's backup generators, housed in a basement), better vent design, and clearer plant instrumentation.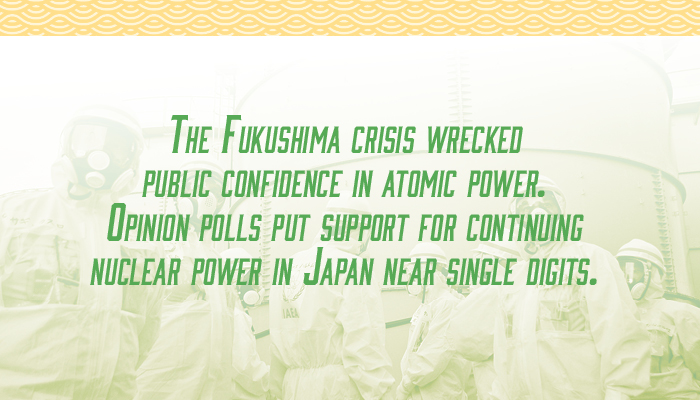 But the NRC received criticism for rejecting demands to end dense packing of spent fuel pools, which some experts said left them at risk of catching fire if the pool lost cooling water due to an accident or terrorist attack. That could result in a catastrophe even greater than Fukushima, the authors of a 2017 Science article assert, due to the amount of radiation that could escape.
Required upgrades have increased the already formidable costs of building new reactors as the price of solar and other renewables plummets, clouding the nuclear industry's future. In addition to changes driven by new safety regulations, last-minute design tweaks responding to local conditions cause much of the excess cost, according to a recent MIT study. "If more components of the plant, or even the entire plant, could be built offsite under controlled factory conditions," it noted, "such extra costs could be substantially cut."
Private businesses are reluctant to embark on new construction without considerable government help. In the decade since Fukushima, 63 new reactors launched around the world, most (37) in China, according to the World Nuclear Industry Status Report. But 59 units were shut down worldwide, and several countries (including Germany, Switzerland, and Spain) have exited nuclear power or halted new reactor construction.
Nuclear's share of the world electricity market will fall to 5 percent by 2050 (down from 10 percent today), forecasts the International Atomic Energy Agency. Post-Fukushima, the Japanese nuclear industry has struggled to export its technology abroad. Deals in Vietnam, Turkey, and the United Kingdom have fallen through. Toshiba was forced in 2018 to offload Westinghouse Electric, its bankrupt U.S. nuclear arm.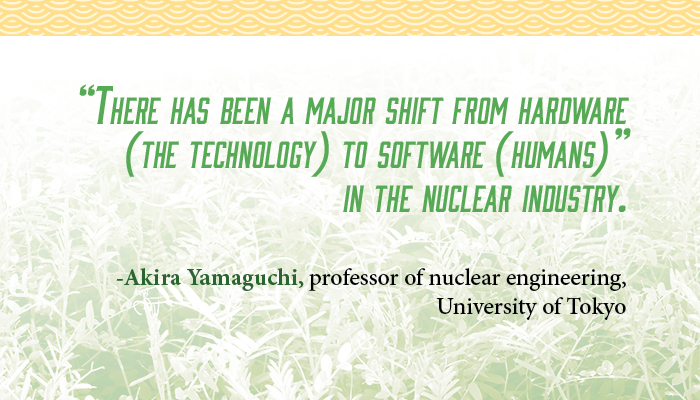 A Look Ahead
As international government advisor Kirsty Gogan says, the power density of nuclear energy ("a million times denser than coal") is hard to replicate. "You can have an awful lot of power with very small land use," says the managing partner of London-based consultancy LucidCatalyst. New technologies might help provide a way forward. Small modular reactors (SMRs), built in factories and plugged into local sites where they generate 50 to 400 megawatts of electricity rather than the gigawatt or so of typical reactors, are seen as one way to save the nuclear industry. Molten salt reactors (MSRs) are another option, and may be less radioactive and more sustainable. The molten salts that cool the reactors instead of water operate at lower temperatures and lessen the risk of coolant failure. In addition, most dissolve nuclear fuel in the coolant, reducing the need for storage.
The Anthropocene Institute's Ling notes that MSRs "can potentially be deployed quickly through the development of 3-D printing technologies and can effectively be installed like giant batteries that you plug in and play." They could also be used to power carbon-capture plants. At least 15 direct air capture plants exist worldwide, according to the International Energy Agency, but more large-scale demonstrations are needed "to refine the technology and reduce capture costs."
The Japan Atomic Energy Agency is pushing ahead with plans to develop high-temperature gas-cooled reactors, which use more-efficient helium gas instead of water. They employ graphite with nuclear fuel to reduce radioactivity. But for now, investment will be a challenge.
While the world debates new technological solutions to energy and climate change, the people of Namie and other towns around Fukushima must live with the failure of older technology. A 2016 RAND paper celebrates Japan's dramatic cleanup achievements but points out the lack of known methods to accelerate the decay of radioactive material—which means it must be isolated and stored near the Daiichi plant.
Once a bustling town of small farmers and shopkeepers surrounded by rice paddies and orchards, Namie is crawling back to life. But most of its former residents have scattered to the wind. Just a handful of children are enrolled in the new local elementary school. "We have survived," says a spokeswoman for the local town office. "Now we want to show that we can thrive again."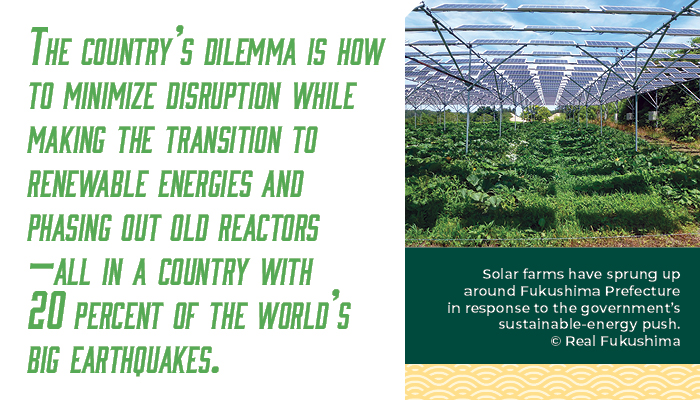 David McNeill is a Tokyo-based journalist and professor of liberal arts at University of the Sacred Heart. He is the coauthor of Strong in the Rain: Surviving Japan's Earthquake, Tsunami, and Fukushima Nuclear Disaster (2012).
Decommissioning Daiichi
Two harrowing weeks after the nuclear core began melting down, engineers at the Fukushima Daiichi facility finally stabilized reactors 1, 2, and 3 with water. They later added a treatment plant to filter out the radioactive elements the water picked up as it circulated through the reactors. The facility reached cold shutdown condition—in which water keeping the molten fuel cool remains below boiling point—in December 2011, and decommissioning began in 2013. Tokyo Electric Power Co. (TEPCO), the plant's operator, has since published a series of revised decommissioning roadmaps, including its latest last year.
Each stage has generated complex engineering challenges. The biggest remains extracting roughly 880 tons of molten fuel from the three ruined reactors. The fuel melted when the plant's cooling system failed following the earthquake and tsunami, falling to the bottom of the reactor containment vessel and, in the case of unit 1, apparently burning through into the drywell concrete below. Much of the fuel in units 2 and 3 also appears to have melted, according to the World Nuclear Association. This, along with thousands of fuel rods, must be cleared before the reactors can be dismantled and the plant finally laid to rest, decades hence.
As Tamio Arai, one of the leading engineers on the project, explains, the post-accident distribution of residual fuel and fuel debris differs greatly in each unit. "At Three Mile Island [scene of the 1979 U.S. nuclear accident], melted fuel and other substances remained inside the reactor pressure vessel. In the Fukushima plant, the fuel may have penetrated the reactor pressure vessel and fallen into the pedestal—the foundation of the reactor vessel—or leaked outside the pedestal. In addition, fuel debris, residual fuel, and equipment inside the reactor is still highly radioactive. So, the recovery of fuel debris, including residual fuel, is the most difficult task."
A menagerie of off-the-shelf and customized robots have been conscripted to help with the process. But many have died on the job, knocked out by high radiation or entangled in wreckage. In early 2017, for example, a robot dispatched to survey inside unit 2 was blocked by fuel debris piled at the bottom of the containment vessel and had to be abandoned.
The sheer scale of the cleanup makes such failures "unavoidable," says Arai. Compact swimming robots with simple technology, such as cameras and sonars, have often worked best. A camera mounted on a pipe was later sent to peer inside reactor 2, with "very useful results," says the emeritus professor of engineering at the University of Tokyo and vice president of the International Research Institute for Nuclear Decommissioning (IRID). Seventeen organizations created the nonprofit in 2013 to enable collaborative research on decommissioning technology after the Fukushima incident and develop "human resources for research and development."
Working with private companies such as Hitachi-GE Nuclear Energy, Ltd., IRID has developed remote-controlled machines to swim into the reactors' radioactive murk and investigate, for instance, the fuel's state and location, radiation levels, and rubble at the bottom of containment vessels. These are the first steps in retrieving the fuel and dismantling the reactors.
One robot prototype dispatched in 2015 was equipped with video cameras, a thermometer, a dosimeter to measure radiation, and a laser to judge distance. It incorporated joints and motors that allowed it to change shape and negotiate debris. The machine could straighten out to its full 64-centimer length while crawling through pipes.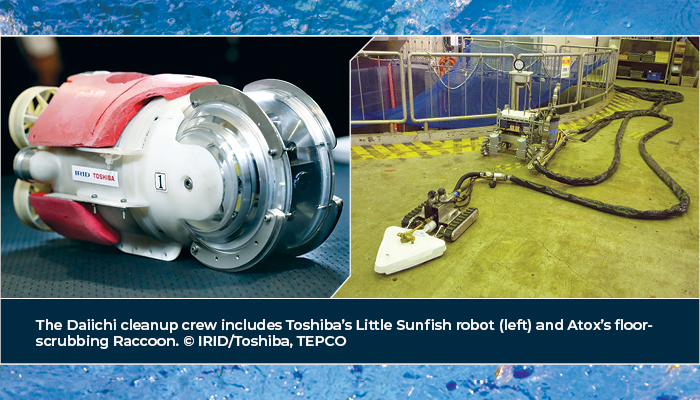 A Long To-Do List
As engineers' focus moves from emergency response to fuel debris retrieval, the scale of the effort has prompted them to collaborate across borders. The UK's Remote Applications in Challenging Environments (RACE) facility, part of its Atomic Energy Authority, is leading a joint project with Japanese scientists to develop a stainless-steel robotic arm for retrieving melted fuel from inside the number 2 reactor. The device will incorporate a brush and vacuum vessel to sweep up powdered nuclear debris and could start retrieving melted fuel in 2021.
But engineers can already claim important successes. The plant's hybrid water treatment system appears to remove most dangerous contaminants. Radioactive water passes through zeolite, an absorbent mineral that acts like a chemical sponge to remove the elements cesium and strontium. The water is then put through the Multi-Radionuclide Removal System, which TEPCO says filters most of the other radioactive nuclides, with the exception of tritium, a relatively weak radioactive isotope of hydrogen with a half-life of about 12.5 years.
Scientists have also deployed advanced tools to peek inside the reactors, including cosmic muon radiography. Muons are charged particles similar to electrons that are produced when cosmic rays hit Earth's atmosphere. Atomic elements such as uranium make them more unstable and able to be detected by instrumentation. Scientists deployed this technology to look past concrete and inside unit 1, tentatively concluding that most of the nuclear fuel had dropped to the floor of the pressure vessel. They've also used plasma mass spectrometry, sending beams of charged ion particles to detect radioactive elements.
To stop the site's groundwater from flowing into the reactor buildings and becoming contaminated, a 1.5-kilometer wall of pipes filled with coolant that freezes the surrounding soil was buried up to 30 meters below the surface around the plant. TEPCO used cranes to pluck over 1,500 radioactive fuel rods from the spent storage pool of unit 4, the fate of which once generated terabytes of apocalyptic news coverage. "Radiation dose levels at site boundaries have been reduced to less than 1mSv/year," says a TEPCO spokesperson, meaning it has been possible since 2018 to work without radiation suits in about "96 percent of the site."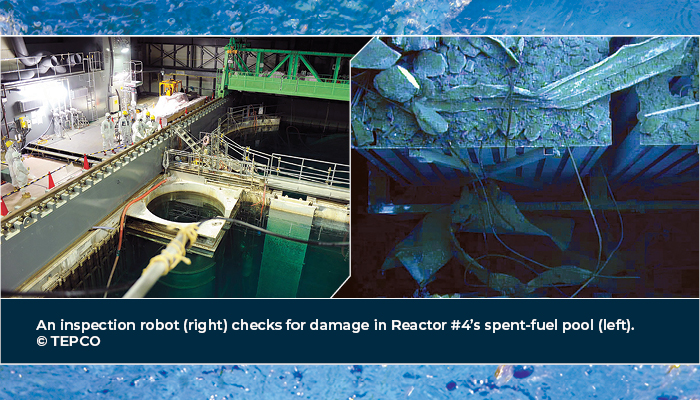 Yet, "tasks keep piling up," one exasperated TEPCO engineer told Fukushima Minpo, a local newspaper. Among the looming challenges this year is calibrating the amount of water that must simultaneously be pumped into the number 2 reactor to cool the fuel, then sucked out via the bottom of the containment vessel, while workers try to grab the molten fuel with the robot arm—assuming it works. High radiation makes this work hazardous and has slowed progress, particularly on reactor 1. A side effect is that radioactive water accumulates at the rate of 170 tons per day.
More than 1.2 million tons of treated water is stored in an ever-expanding crop of giant tanks on-site. The International Atomic Energy Agency warns that the tanks will be full by the summer of 2022. TEPCO wants to begin dumping the tritium-laced water in the Pacific—but that proposal is politically contentious. There is as yet no solid plan to dispose of this waste, another daunting task that will require more engineering miracles, public support, and money.
The government estimates the final price tag for Fukushima's decommissioning at 8 trillion yen ($73 billion), but that excludes compensation to thousands of local residents, farmers, and businesses displaced by the accident—paid as long as they cannot return—as well as decontamination of the surrounding countryside and a host of other unforeseen costs. The Japan Center for Economic Research, a think tank, calculates the final cleanup tab at up to 80 trillion yen ($730 billion).
Technology Advances
One silver lining to the Daiichi debacle is the innovation it may generate. As Yuriy Humber, founder of the Japan NRG weekly—a report on the state of energy and electricity in the country—notes, "Some disaster cleanups have produced amazing technology." Work on the Hanford Site, a decommissioned nuclear project in Washington State, spurred the development of Teflon, closed-circuit TV, and "innovations in protecting workers from radioactivity." Could Fukushima generate similar advances?
One potential area is the ongoing design of the so-called "disaster robots." Satoshi Tadokoro, a roboticist at Tohoku University in Sendai, notes that rescue workers now train in emergency nuclear response centers with robots that may one day be deployed to map damage and radiation. Tadokoro's team developed Quince, the first Japanese robot sent into the Daiichi Nuclear Power Plant to do just that, and the Active Scope Camera, a robot that navigates through debris to give scientists an idea of what lies beyond it. "Robot and remote technology must continue developing because humans cannot survive inside the reactors," he says. "The priority of TEPCO and the Japanese government is decommissioning with minimum cost, but robots are [an] essential foundation."
But Arai says that the ubiquity of robots in the cleanup has been overstated. The majority of the work, he explains, concentrates on ensuring that nuclear fuel rods are isolated; developing safety technology to ensure radiation shielding; estimating and analyzing debris and other radioactive substances; inspecting transportation systems for items being moved around the site; and implementing water leakage countermeasures. "Robot technology, or remote-control technology, accounts for about 15 percent of the technology handled by IRID," he emphasizes.
Still, he adds, as decommissioning progresses, remote-control and robot technology will become increasingly vital engineering tools for investigating inside the reactor pressure vessels and removing fuel and other debris. Ten years after nature wrought havoc on the power plant, that work has only begun. – DM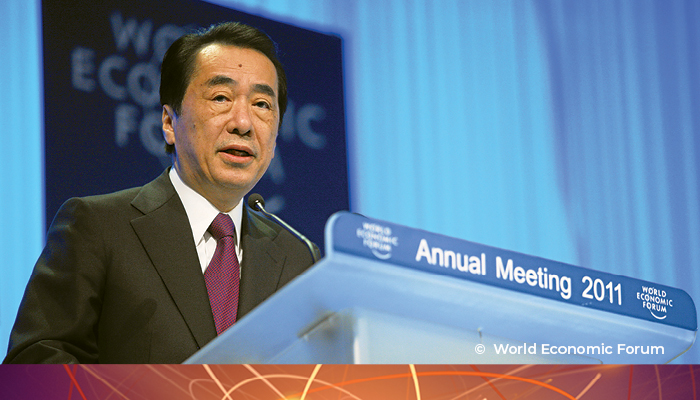 A Changed Mind
Q&A By David McNeill
Naoto Kan, a physics graduate of the Tokyo Institute of Technology and former patent attorney, served as prime minister of Japan during the 2011 crisis. Previously an advocate of nuclear power, Kan broke with decades of state policy following the disaster when he began urging Japan to withdraw from nuclear energy and scrap plans to construct 14 new reactors. Before leaving office, he helped push through a law that set high feed-in tariffs for solar power, and he has since become a leading crusader for renewable energy. His book My Nuclear Nightmare: Leading Japan Through the Fukushima Disaster to a Nuclear-Free Future was published in 2017 by Cornell University Press.
What are your feelings as we approach the 10th anniversary of the 2011 disaster?
Of course, I have very strong impressions of the nuclear accident, but also of the many victims of the tsunami and earthquake. [The 7.1-magnitude aftershock of the 2011 earthquake that struck offshore of Fukushima prefecture on February 13, 2021] brought back bad memories and made me think, "Here we go again."
I decided we should get out of nuclear energy after the accident. I had some doubts about nuclear energy before, but I knew our engineers were comparatively excellent, so I didn't think there could be an accident like Chernobyl. I was part of a government that was trying to sell our nuclear technology to Vietnam and other countries. I later realized that was a terrible mistake.
You are given credit for kick-starting Japan's renewables industry. Are you satisfied in 2021 with the result?
Well, at the time of the accident, nuclear power made up nearly 30 percent of Japan's energy mix. It fluctuates now because plants go on- and offline, but it was about 3 percent last year. Before Fukushima, renewable energy consisted mainly of hydroelectricity and supplied below 10 percent of our needs. Now renewables, including solar and wind, are running at about 19 percent [on average]. That's in 10 years. I believe we can potentially use that approach to supply all of Japan's energy.
You are part of a lobby trying to eliminate all nuclear power. Some say that's irresponsible, given Japan's energy situation. What's your response?
You have to look objectively at the situation. The current government has an energy target of 20–22 percent nuclear and 22–24 percent renewables. There are just three or four reactors online [at the time of this interview]. The safety regulations have completely changed since the accident and have become extremely strict. Of our 54 reactors at the time of Fukushima, over 20 are to be scrapped.
The people who know nuclear power is finished in Japan accept it. The ones who do not are the stakeholders in the industry, such as the energy utilities, local political interests in the host towns, and so on—the "nuclear village." Even from an economic point of view, given the costs, it's just not possible to continue with nuclear power. That's not only my view; experts think the same. China is rushing to build new reactors to cut CO2 emissions, but [the country] is expanding renewable energy at the same time. The trend is clear worldwide.
The end result, however, has been a massive rise in Japan's fossil fuel bill.
It's true that renewable energy has not yet filled the gap of nuclear power, and in the last decade, the use of fossil fuels has temporarily risen. But if you look further ahead, renewables will increase and eventually supply all of our energy. Wind power is not growing as fast as we expected. The utilities have used their control of the grid to block new entrants. The number of solar photovoltaic (PV) cells has expanded—but you need a lot of space, and in Japan we have limited space.
I try to keep up with the new technological developments. One of the most promising is solar sharing on farmland. Legally, farmers in Japan must apply for permission to use their land for anything other than agriculture because there was a lot of effort made to protect scarce farmland. Solar sharing allows land to be dual-purpose—so you can grow crops and generate energy. It's extremely efficient, and the Ministry of Agriculture is backing it. It has been calculated that we could generate 2 trillion kilowatts of electricity this way, many times our current energy output. That excludes wind and other methods.
Solar has been criticized for generating a lot of toxic waste, including plastic.
Japan once made a lot of solar panels, but, regrettably, China now makes most cheap, efficient panels. Yes, there is waste and this will have to be dealt with, but it's not the same level of a problem as disposing of spent fuel from nuclear power plants. We do, however, have to give some thought to the fact that some people do not want solar farms nearby because they spoil the look of the [surrounding] environment. On the other hand, solar solves a lot of problems for Japan, including the fact that the number of farmers is shrinking. This method kills two birds with one stone.
You said in 2011 that Fukushima's worst-case scenario could have required the evacuation of 50 million people, including all of Tokyo. Do you stand by that?
I didn't pluck that out of my head. Shunsuke Kondo, who was then head of the Japan Atomic Energy Commission [which helps set government nuclear policy] made that calculation [Kondo's 15-page report, commissioned by Kan, was kept secret until 2012: https://bit.ly/3pKYGRi.] In my head was a vision of the complete destruction of Japan. Reactor 4 in the Fukushima plant didn't melt down, but its fuel pool was full of spent nuclear fuel, and the building did not have a roof. If that radiation had escaped, the evacuation zone would have needed to be expanded from 20 kilometers around the Daiichi plant to 230 kilometers, which includes Tokyo. We had a very near miss.