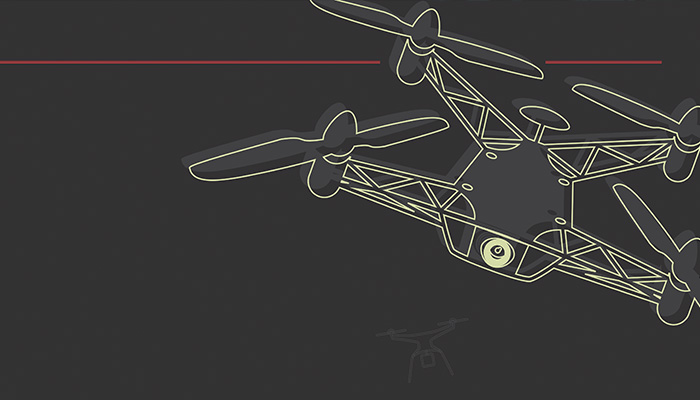 NASA-led researchers strive to keep the skies safe in an era of low-flying commercial drones.
The Age of the Drones is upon us. Already, the Federal Aviation Administration reports, registration of unmanned aerial systems (UAS) exceeds that of aircraft, 325,000 to 320,000. And as commercial use expands, with technology becoming both less expensive and more sophisticated, the number of drones is likely to explode. Thousands may soon be plying the skies doing infrastructure inspections, geographical surveys, news gathering, crop monitoring, and other chores. If UAS are permitted to make deliveries for retail and shipping companies, Amazon alone could account for 130,000 drone flights per day, according to one early estimate. "We don't even know all the uses there will be," says Michael Toscano, an Arizona consultant on unmanned vehicles who spent 20 years at the Pentagon working on robotic systems. As for the total number, he says, "Whatever you estimate today will be wrong—probably on an order of magnitude."
Drones have the capability of doing many jobs faster, better, and cheaper than humans—so the potential economic benefits of putting them to work are enormous. But so is the potential for accidents. To prevent that, NASA has embarked on a wide-ranging research project, enlisting a large team of industrial and academic investigators to design a mostly autonomous, cloud-based UAS Traffic Management (UTM) system by 2019 and present it to the FAA, which regulates U.S. airspace.
"Once you start seeing a lot of vehicles in the same airspace, you need a system to coordinate them—you need a way to organize the traffic," says Parimal Kopardekar, who oversees the effort, called the Safe Autonomous System Operations Project, at NASA's Ames Research Center in California.
Low-Flying Threats
Most, though not all, manned commercial flights within the national airspace are managed by the federal air traffic control system. Uncontrolled airspace, designated as Class G and extending from the ground to no more than 1,200 feet, is regularly used by some types of manned aircraft, including helicopters and gliders. Drones would also ply Class G air space, though probably to no more than 400 feet in altitude. So NASA's plan is to carve out an air-traffic management system for low-altitude drones within Class G airspace to keep them from hitting not only each other but also other aircraft, humans, and static objects—like buildings, towers, and telephone poles.
While humans won't be fully out of the loop—decisions like when to shut down the air space for poor weather or high winds would likely be made by humans—the system will be mostly automated because of the sheer volume of traffic it will handle. "An autonomous [system] can do it better, though it's not perfect. It's not distracted, it doesn't fall asleep, it doesn't get bored every 20 minutes," says Toscano, who until last year headed the Association for Unmanned Vehicle Systems International, a nonprofit group dedicated to advancing robotic systems. Another reason for automation is to make the UTM expandable, since drone traffic will likely keep increasing "and a human system doesn't scale well," says Kopardekar, an industrial engineer by training. Consider that the FAA today has 15,000 human controllers handling around 87,000 manned flights a day. It's not feasible to hire enough people to manage hundreds of thousands of airborne drones.
NASA expects to construct a system that makes use of flight corridors and geofencing, or virtual barriers that will keep UAS from flying over sensitive areas. The UTM would manage drone traffic to minimize congestion and keep both autonomous and remote-controlled vehicles well-separated as well as allow for route planning and re-routing. While drones will be fitted with sensors to help them "see" obstacles, the UTM would also rely on a database of known obstacles, including buildings and towers.
NASA is crafting the UTM in four stages, or "technology capability levels." It successfully tested the first stage—for rural, mainly agricultural, line-of-sight operations—last August. Plans call for testing the second stage, which allows flight beyond visual sight in sparsely populated areas, in October. The third level, demonstrating the tracking of drones over moderately populated areas, is set for January 2018. The final phase, tracking and managing drones over high-density urban areas, will occur in 2019.
Linking Drones with the UTM
For the whole thing to work, Kopardekar says, precise tracking is key, with or without use of global positioning systems. So drones will also be tracked using cellular networks. They will need a variety of sensors—which could include cameras, lasers, radio-based transponders, and radar—that constantly send data to the central system. To turn these massive amounts of streaming data into useful information in real time, NASA has tasked the University of Nevada, Reno's Advanced Autonomous Systems Innovation Center to design the bridge communications software that links the drones with the UTM. In a statement last August, Richard Kelley, the assistant professor of computer science who is leading this aspect of the research, said the plan is not only to have a system that enables UAS to be aware of one another, but also "to create traffic 'patterns,' or navigation protocols, that would keep aircraft away from each other in the first place."
Toward that goal, Mykel Kochenderfer, an assistant professor of aeronautics and astronautics at Stanford, and mechanical engineering grad student Hao Yi Ong are developing software to predict possible UAS collisions and avoid them. "It's really tricky, for a number of reasons," Kochenderfer says. For one thing, collision-avoidance systems for manned airplanes assume they'll fly in straight lines, but that can't be assumed with drones. Even when drone operators file flight plans, the craft may deviate. Additionally, the system may have to keep three or more drones apart, not just two. Finally, data that come in from GPS, cellular networks, or onboard sensors aren't always robust. "You can't trust them 100 percent," he says. That means the algorithm needs to accommodate and work around data lapses, which so far, at the theoretical level, it does.
Kochenderfer and Ong's algorithm, working in milliseconds, separates potential multi-aircraft conflicts into paired problems, and then uses a prediction flight-path table to determine the best routes for each pair of drones. It then compares the solutions for each pair and issues the best evasive maneuvers for all the drones involved. "It works better than human decision-making," he says.
But just in case there are occasional failures, Kochenderfer is also working on a vehicle-to-vehicle system that would allow drones to communicate with one another in the last few seconds to avoid a crash. Kochenderfer likens it to layering three slices of Swiss cheese in such a way that each hole is blocked, so that the weaknesses of each layer are mitigated by the next layer's strengths. In the case of the UTM, the bottom layer would be segmented air space, topped by the layer of conflict-avoidance software, which is topped by the final V2V layer.
Damaged, but Still Flying
If a drone were to be damaged in an accident or develop a mechanical failure, ideally it could still remain aloft. "If things go wrong, you don't want it to hit the ground," says Kelly Cohen, a professor of aerospace engineering at the University of Cincinnati, who is working on technologies that would keep a damaged drone on its mission, or enable it either to return to its base or quickly find a safe spot to land. Cohen's team has so far demonstrated a quadrotor UAS that can lose one propeller and still retain its balance and continue flying.
Rogue drones, operated by criminals, could cause mayhem in the skies. "That is why tracking is important," Kopardekar says. "That is why you need detection and mitigation." The mitigation part­­—disabling the aircraft—is beyond the scope of NASA's project. That will be left to law-enforcement agencies. There's also a risk that Internet-connected drones with autopilot software could be hacked and put to nefarious use. The Defense Advanced Research Projects Agency (DARPA), however, may already have that possibility covered. In a 2014 demonstration, software developed in DARPA's High Assurance Cyber Military Systems (HACMS) program by a team led by Kathleen Fisher, a professor of computer science at Tufts University, proved impregnable against repeated hacking attempts. "Hackers could not get in and take control of the vehicle," says Kristin Rozier, an assistant professor of computer science at Cincinnati. "It is designed from the start not to have a back door." Toscano, however, is skeptical: "You should never say never. If someone is smart enough to create it, someone else is smart enough to defeat it."
Autonomous technology is inherently more efficient and safer than human-run systems, Toscano says, and a largely autonomous UTM will keep accidents to a relatively small number. Eventually, though, there will be injuries or fatalities. "The first time a drone hurts or kills a human, it will be a big deal," Toscano says. But the 38,000 deaths on U.S. roads each year haven't stopped Americans from driving. Just as motorists accept the risk of a collision to stay mobile, the economic value of drones will trump the risk of the occasional accident, he says: "Technology always wins if it's a better mousetrap." Especially one that flies.
By Thomas K. Grose
Thomas K. Grose is Prism's chief correspondent, based in the United Kingdom.