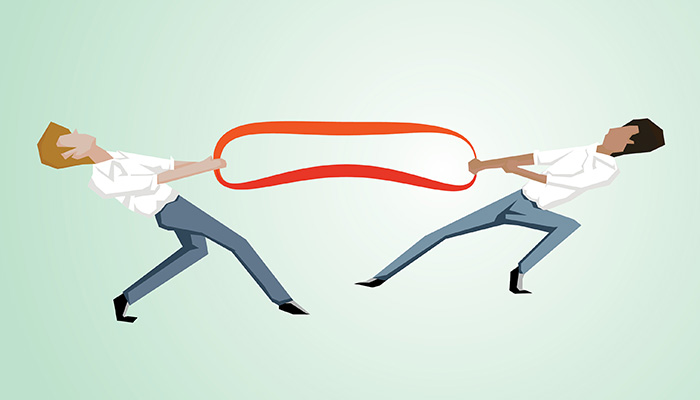 Proposed changes to accreditation criteria have touched off a tempest in the engineering community.
What does an engineer need to know? What abilities indicate that a new graduate is prepared to enter the profession? Engineering educators and employers are debating these questions with renewed vigor these days because ABET, formerly the Accreditation Board for Engineering and Technology, is considering revisions to the criteria used to bestow its highly regarded seal of academic approval upon degree programs.
The stakes couldn't be higher. Recognized as the "gold standard" in the United States and more than two dozen other countries, ABET criteria drive key decisions on everything from curriculum and assessment to faculty qualifications and facilities. Accreditation also is a crucial credential for students' success in the job market. Most employers, including the federal government, require it as a validation that a graduate took courses that provide the relevant training and skills for engineers. So do many agencies that license professional engineers.
"In general, no ABET= near worthless degree," writes one participant in reddit.com's AskEngineers online forum. Agrees another: "You won't even get past the initial résumé screen… if your degree isn't from an ABET program."
While there's general consensus within the engineering education community about the value of accreditation, the same cannot be said about the qualifications to earn that status. The proposed overhaul of two of ABET's seven criteria—Criterion 3 (student outcomes) and Criterion 5 (curriculum)—has proved particularly controversial. At issue is whether the streamlined requirements focus too narrowly on measurable technical skills and eliminate key professional competencies that come from a broad education, such as the ability to understand the societal context of engineering. The National Academy of Engineering recently got involved, convening academic and industry experts for a day-long forum in February to discuss what improvements might result. Some speakers saw scant difference from existing standards. Others argued that the new benchmarks disavow core values and skills that are central to the very nature of the engineering profession, including global awareness and ethics. "I went into that meeting in D.C. thinking these changes are pretty minor, [but] I actually came out of it saying, 'Whoa, they're not minor,'" Sheri Sheppard, a professor of mechanical engineering and Fellow in Undergraduate Education at Stanford University, told Prism. The NAE plans to release a summary report of February's forum and participate in the ABET town hall at ASEE's annual conference this June.
The controversy is erupting just as higher-education accreditation has come under intensified federal and state scrutiny. While ABET is a professional accreditor, not an approved "gatekeeper" monitoring compliance with federal student loan requirements, ABET is concerned that this distinction is lost on most people—including politicians. One large accreditor, the American Council for Independent Colleges and Schools, recently announced its CEO's departure following a barrage of criticism for having certified the good standing of Corinthian Colleges, a for-profit chain, mere months before the U.S. Department of Education forced all 120 campuses to close for receiving billions in federal student aid without delivering the promised education. With Congress mulling over changes to the Higher Education Act, ABET's leadership grew concerned enough to circulate talking points and urge members to counter the "unprecedented criticism" of accrediting organizations.
Rigor and Relevance
ABET has adjusted course before. In 1996, the Baltimore, Md.-based nonprofit adopted a sweeping new set of standards that shifted the basis for accreditation from inputs, such as credit hours or topics taught, to learning outcomes. Engineering Criteria 2000 (EC2000), as the reforms were known, still emphasized mathematical, scientific, and technical knowledge, but added a focus on problem solving, teamwork, communications, and other professional skills. It also ushered in capstone design courses. The impact was substantial. A Pennsylvania State University study commissioned by ABET found that 2004 engineering graduates were more engaged, better prepared, and had stronger professional skills than their 1994 counterparts. Their awareness of global issues, ability to apply engineering skills, and understanding of ethics were particularly pronounced. Moreover, employers noted no erosion of mathematical or technical knowledge. "Engineering programs and faculty can be confident that their efforts to improve engineering courses and programs will benefit students and the profession," the Penn State researchers concluded.
Today's engineering programs have become more engaging and hands-on since EC2000's debut. What hasn't changed is the "almost religious fervor in maintaining consistent minimum standards for the education of engineers" that motivates the thousands of trained volunteers who do the hands-on work of evaluating programs, says University of Pittsburgh engineering dean Gerald D. Holder. Drawn from the 35 technical and professional organizations that constitute the nonprofit body, these evaluators visit campuses and study documents produced through institutional self-assessments to determine whether a degree program meets ABET criteria. Leaders are recruited to serve one of ABET's four disciplinary commissions: engineering, engineering technology, computing, and applied sciences.
Currently, more than 3,000 programs at some 700 colleges and universities in the United States and 28 other countries enjoy ABET's stamp of approval. Trouble is, some criteria are hard to assess. How, for example, can schools gauge an ability to engage in lifelong learning—one of 11 required student outcomes? Particularly problematic, says Patricia Brackin, a professor of mechanical engineering at Rose-Hulman Institute of Technology and chair of ABET's Engineering Accreditation Commission (EAC), are standards such as "understand," which has multiple meanings and thus presents difficulties in measurement. Consider the "knowledge of contemporary issues" criterion. Some, notes Brackin, believe "it has to have a social component, like the shooting in Ferguson, Missouri." Others demand "a social component and an engineering component… like the lead pipes in Flint, Michigan." Still others insist, "'No, you're all wrong. It's keeping up with what's going on in engineering.'" Clearer, more assessable standards could help resolve the ambiguity, she says.
To increase precision and the ability to measure outcomes, the EAC selected action verbs from the widely used Bloom's Taxonomy to describe particular expectations and educational goals. The commission also restructured criteria that were deemed confusing. The revised criteria then underwent several stages of review based on survey results and discussions with a wide range of stakeholders. Comments now are being solicited through its website from the engineering community at large.
Critics Push Back
Reactions at the NAE conference suggest the engineering community remains deeply divided over ABET's revisions. Mickey R. Wilhelm, dean emeritus of the University of Louisville's J.B. Speed School of Engineering, for example, couldn't "see any substantial changes in criteria 3 and 5 that have apparently caused a furor among some of the constituent groups." The new version, he predicted, will benefit both institutions and students by "providing more latitude in curricula." Dianne Chong, retired vice president for research and technology at Boeing, also approved, declaring the proposed criteria "sufficient" for industry's needs. The sum of what industry seeks in an engineer, she said, "sounds like the ABET criteria"—a graduate who has fundamental math, science, and engineering skills; the ability to work well in teams; good communication skills; a systems approach that permits thinking outside of one's own discipline; the ability to deal constructively with cultural differences; and skill at using all these capacities to solve problems.
Critics, however, pointed to glaring gaps. Consultant Stuart Walesh, an author with a technical specialty in water resources engineering, spotted a "serious omission" in both the proposed and current criteria's failure to consider professional licensure. Licensed engineers are more likely than unlicensed colleagues "to be competent, current [and] ethical, including being more aware of their public health, safety, and welfare responsibilities, partly because they'll be held accountable by licensing boards," he said. Students need enough information to make "sound judgments" about whether to pursue professional licensure, which is a career advantage in a "very volatile employment situation," he added. David Whitman, professor of engineering education at the University of Wyoming and past president of the National Council of Examiners for Engineering and Surveyors, the professional association of state licensing boards, concurred. Licensure is based on examination, education, and experience, he noted, with ABET accreditation serving as the "gold standard" for the education component.
Voicing the concern of a number of participants, Frank Flores, senior vice president of engineering for university and STEM relations at Northrop Grumman Aerospace Systems, called for a stronger "focus on diversity and inclusion," though he found the proposed criteria generally satisfactory. "When we pull together teams that are very diverse, we come up with robust solutions" that would not have emerged from more homogeneous teams, he explained. Diversity, he added, needs to include not only race and gender but also variety in experiences, such as a military background.
The absence of "anything in criteria 3 and 5 that addresses recruitment, nurturing, and welcoming for underrepresented groups" also disappointed former ASEE board member C. Diane Matt, executive director of the Women in Engineering ProActive Network, which advocates for diversifying the profession. "Engineering college cultures are rarely inclusive and they're also quite uncivil for anybody who isn't a straight white guy," she said, noting that biases "permeate every node in the engineering education system."
A different lack of focus on social conditions concerned Stanford's Sheppard. "We often say that engineers are problem solvers, that they accept the problem that's given to them and go about solving it," she said. Instead, Sheppard argues, engineers should move "beyond solving the problems that they're handed" and use the "incredible tool" of engineering analysis, along with their social and cultural knowledge, to frame and be "at the table in solving the really important problems" of society.
"Don't Lower the Bar…"
The strongest salvo came from Virginia Tech engineering education professor Donna Riley, who believes the proposed changes "inexplicably weaken or eliminate many of the professional skills that industry clearly values [and] lower what we expect engineering professionals to be and do." The revised criteria, she warned, "surely" will produce the "de-professionalization of engineers, a loss of stature for the profession, and a shrinking of the scope of engineers' responsibilities in the workplace and in society."
Riley's alarm stems in large part from the removal of humanities and social sciences from required engineering coursework. "Broad education is now merely characterized as a component of a technical education, when it really should be the other way around," she argued. "This drops a floor on education breadth and it sets engineering education back at least 60 years." Equally troubling to Riley was the elimination of contemporary issues, "as if engineers have no need to understand global climate change or the VW diesel cheat… or the water crisis in Flint." In reality, she noted, "engineering projects emerge from and within a social context that must first be understood" if they are to have impact. There's also a political context. By replacing such terms with "societal" and "policy," the proposed criteria only shrink engineers' purview. "Please," she asked, "don't lower the bar on engineers as thinking citizens."
Riley also worried that removing health and safety from Criterion 3 could result "in engineers defaulting on our first ethical duty": to hold paramount the welfare of the public. She also warned that the "everything-but-the-kitchen-sink outcome" being proposed "undermines the ability of engineers to act ethically and as professionals" by conflating ethics with measures of intercultural competency and social analysis.
Employers See a Gap
Despite its importance, accreditation may not guarantee employment for a program's graduates. Phillip Borrowman, former ABET president and retired senior vice president of Hanson Professional Services, sees a definite "gap between what industry needs and what is in the ABET criteria." In his experience working for a national engineering consulting firm, he told the NAE forum, companies often have their own criteria for hiring that generally are "more rigorous, with specifics regarding the open position we are trying to fill." His firm, for example, recruited from programs that provided graduates "more than is minimally required by the ABET criteria." Representatives from Boeing, Lockheed, Grumman, and Bechtel also focus on a select group of schools that have a track record of producing suitable graduates. "In essence, companies are doing their own accreditation," said Borrowman.
Some programs forgo ABET accreditation altogether. Until a few years ago, Stanford's five engineering programs—civil, environmental, mechanical, chemical, and electrical—were accredited by ABET. After the last ABET review, however, the environmental and electrical programs "stepped back" from completing the process because they believed ABET's requirements were "getting in the way of where [they] want[ed] to be going," Sheppard told Prism. The environmental program sought to "change the direction" and become more environmental-science oriented, she explained. The electrical program saw itself as "a very close cousin to computer science" and desired flexibility to balance both programs but was "a bit hamstrung" by requirements that made the engineering program longer. "Our students aren't having any trouble finding jobs," Sheppard notes. And since "very few" graduates pursue licensure, they have less need for an ABET-accredited degree.
Of course, rank can convey privileges. Stanford is tied with the Massachusetts Institute of Technology atop U.S. News & World Report's latest list of best undergraduate engineering schools, so students may benefit from its reputation for high-quality education, regardless of ABET accreditation.
Which raises the original question: What should the purpose of accreditation criteria be? Forum participants reached no consensus. Some argued for aspirational standards that define the highest levels of excellence. Others regard the criteria as a floor—the minimum requirements most programs ever meet. Karan Watson, provost and a professor of electrical and computer engineering at Texas A&M University, cautioned against forcing programs toward a particular vision of excellence in every area, and is "very concerned" when people try to use ABET as "the stick that comes and beats people into being excellent." In numerous disciplines, the "most problematic" accrediting organizations she has encountered tend to be those that "over-specify their vision of excellence." As she observed: "Institutions have their own visions and processes to achieve excellence in a variety of areas."
Given the ongoing debate, ABET's timeframe for approving the new criteria could stretch well beyond this fall, as currently envisioned. "Little words" added or removed "here and there" appear to carry broader meaning and potential consequences than many initially supposed, Stanford's Sheppard suggests. As more engineering educators parse ABET's proposed revisions, the national conversation is likely to intensify.
By Beryl Lieff Benderly
Beryl Lieff Benderly is a Washington, D.C.-based freelance writer and a fellow of the American Association for the Advancement of Science.
Criterion 3: Student Outcomes
Current
The program must have documented student outcomes that prepare graduates to attain the program educational objectives.
Student outcomes are outcomes (a) through (k) plus any additional outcomes that may be articulated by the program.
An ability to apply knowledge of mathematics, science, and engineering
An ability to design and conduct experiments, as well as to analyze and interpret data
An ability to design a system, component, or process to meet desired needs within realistic constraints such as economic, environmental, social, political, ethical, health and safety, manufacturability, and sustainability
An ability to function on multidisciplinary teams
An ability to identify, formulate, and solve engineering problems
An understanding of professional and ethical responsibility
An ability to communicate effectively
The broad education necessary to understand the impact of engineering solutions in a global, economic, environmental, and societal context
A recognition of the need for, and an ability to engage in life-long learning
A knowledge of contemporary issues
An ability to use the techniques, skills, and modern engineering tools necessary for engineering practice.
Proposed
The program must have documented student outcomes. Attainment of these outcomes prepares graduates to enter the professional practice of engineering.
Student outcomes are outcomes (1) through (7) plus any additional outcomes that may be articulated by the program.
An ability to identify, formulate, and solve engineering problems by applying principles of engineering, science, and mathematics.
An ability to apply both analysis and synthesis in the engineering design process, resulting in designs that meet desired needs.
An ability to develop and conduct appropriate experimentation, analyze and interpret data, and use engineering judgment to draw conclusions.
An ability to communicate effectively with a range of audiences.
An ability to recognize ethical and professional responsibilities in engineering situations and make informed judgments, which must consider the impact of engineering solutions in global, economic, environmental, and societal contexts.
An ability to recognize the ongoing need for additional knowledge and locate, evaluate, integrate, and apply this knowledge appropriately.
An ability to function effectively on teams that establish goals, plan tasks, meet deadlines, and analyze risk and uncertainty.
Criterion 5: Curriculum
Current
The professional component must include:
One year of a combination of college-level mathematics and basic sciences (some with experimental experience) appropriate to the discipline. Basic sciences are defined as biological, chemical, and physical sciences.
1.5 years of engineering topics, consisting of engineering sciences and engineering design appropriate to the student's field of study.
The engineering sciences have their roots in mathematics and basic sciences but carry knowledge further toward creative application. These studies provide a bridge between mathematics and basic sciences on the one hand and engineering practice on the other. Engineering design is the process of devising a system, component, or process to meet desired needs. It is a decision-making process (often iterative), in which the basic sciences, mathematics, and the engineering sciences are applied to convert resources optimally to meet these stated needs.
A general education component that complements the technical content of the curriculum and is consistent with the program and institution objectives.
Students must be prepared for engineering practice through a curriculum culminating in a major design experience based on the knowledge and skills acquired in earlier course work and incorporating appropriate engineering standards and multiple realistic constraints.
One year is the lesser of 32 semester hours (or equivalent) or one-fourth of the total credits required for graduation.
Proposed
The curriculum requirements specify subject areas appropriate to engineering but do not prescribe specific courses. The curriculum must support attainment of the student outcomes and must include:
One academic year of a combination of college-level mathematics and basic sciences (some with experimental experience) appropriate to the program.
1.5 academic years of engineering topics, consisting of engineering sciences and engineering design appropriate to the program and utilizing modern engineering tools.
A broad education component that includes humanities and social sciences, complements the technical content of the curriculum, and is consistent with the program educational objectives.
Students must be prepared to enter the professional practice of engineering through a curriculum culminating in a major design experience based on the knowledge and skills acquired in earlier course work and incorporating appropriate engineering standards and multiple constraints.
For more on the proposed changes, see Last Word. See also this link on the ASEE Member Resources web page: https://www.asee.org/member-resources/abet-alerts